Oct 07, 2019
Future Family Customer Review: Ebonee & Daniel share their path to parenthood
Like many couples, Ebonee and Daniel met through mutual friends. But it was when they started following each other on Instagram that sparks started to fly. Ebonee was immediately charmed by Daniel's pictures of his daughter, Hayden from a previous relationship. When Daniel asked her out on a date, Ebonee said yes. That first date went so well, many more followed and soon they were moving as a couple to Las Vegas from their original home town of Los Angeles.
Ebonee not only fell into love with Daniel but with his daughter and started to think about having a baby. She discussed it with Daniel and they decided to start trying to get pregnant. After a year and a half of negative pregnancy tests, they knew they needed help. At the Fertility Clinic of Las Vegas, the couple took several tests, including a simulation test, where they discovered that Ebonee's left tube was closed, making it very hard to conceive.
It was time to start looking at alternatives ways to get pregnant, like IVF.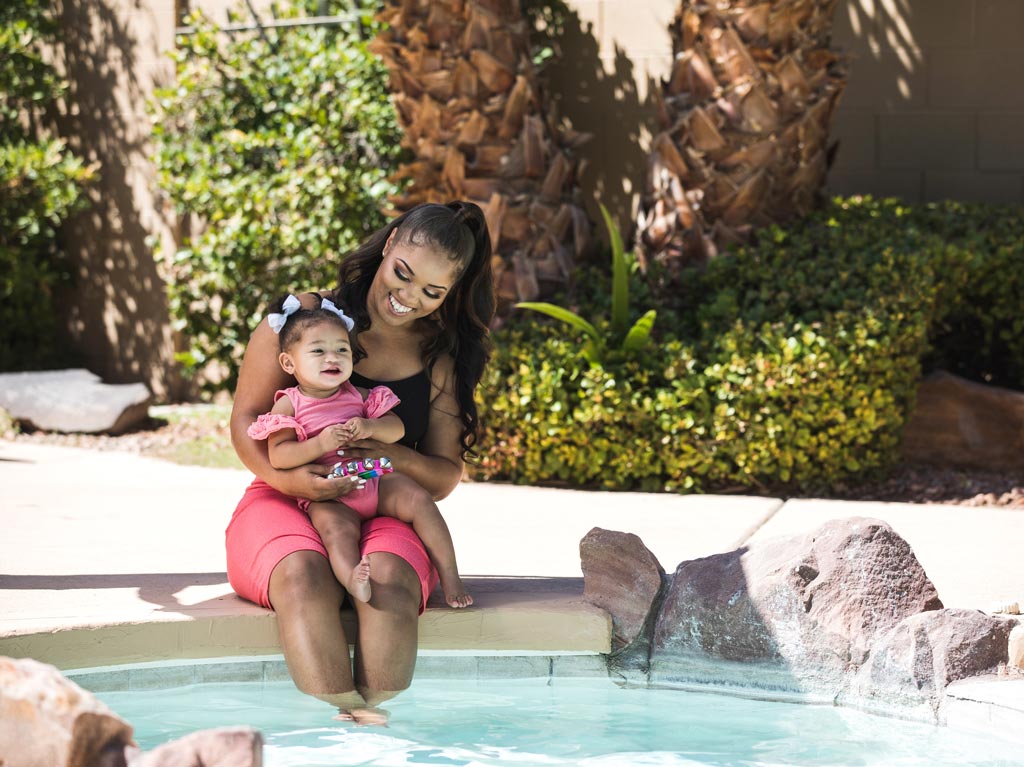 Ebonee and Daniel felt overwhelmed by IVF. Not just the actual process itself, but also how to pay for it. While online one night, Ebonee read about Future Family.
"When I heard about Future Family I thought it was too good to be true," Ebonee said, "I didn't think It was real. I didn't think someone actually cared about my situation. They gave me hope when I felt hopeless."
Ebonee talked with Claire Tomkins, CEO and founder of Future Family, about her situation and the two bonded over wanting to become mothers. Future Family provided not only a manageable financial plan for Ebonee and Daniel to start IVF treatments, but also partnered her with a dedicated Fertility Coach, Christy, to support her through the IVF cycle.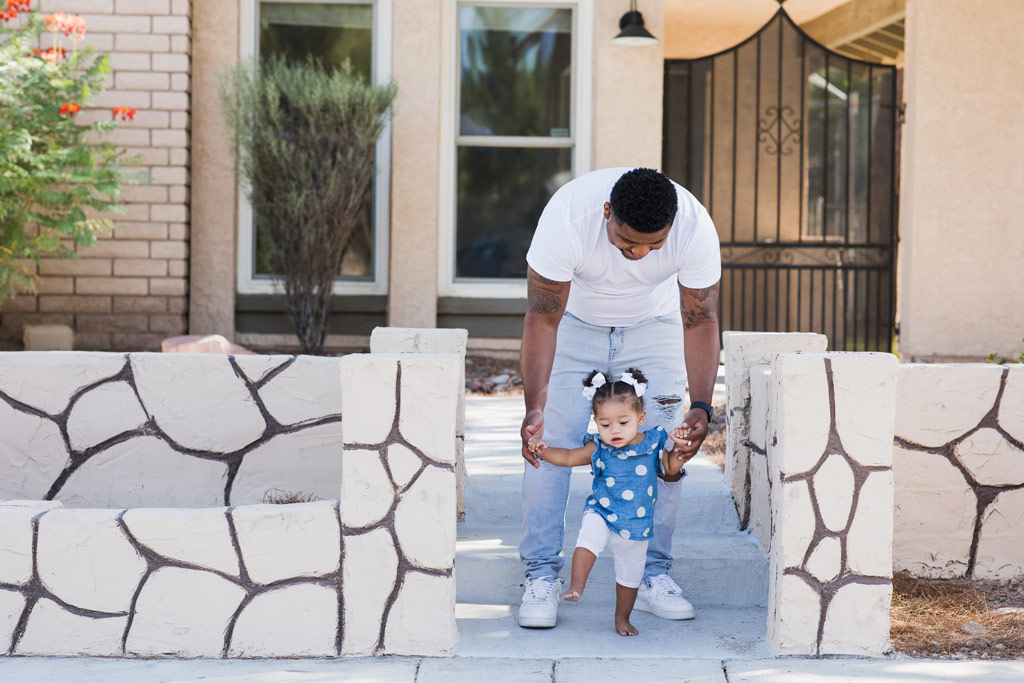 For Daniel and Ebonee, Christy became an essential guide through the IVF process. When they left the pharmacy with multiple medications and needles, they didn't know what to do. Fearing he would do it wrong and hurt her, Daniel was nervous about giving Ebonee her first injection. Christy came to the rescue, walking him through the first injection, watching him on Facetime to make sure he got it right.
Their Fertility Coach also set them up on a schedule making sure they took the right meds at the right times so that there would be no margin for error going into the embryo transfer.
Christy was also there to answer Ebonee's many questions. Everything from, "what is the difference between hCG and HSG" to "is this a symptom of pregnancy?"
Soon after the embryo transfer, Ebonee had to find out whether or not she was pregnant. She took a pregnancy test and when it came back positive she almost couldn't believe it. She was pregnant!  Ten days later, it was confirmed by the doctor. At the first sonogram, they saw their baby, as small as a jelly bean and knew it was real.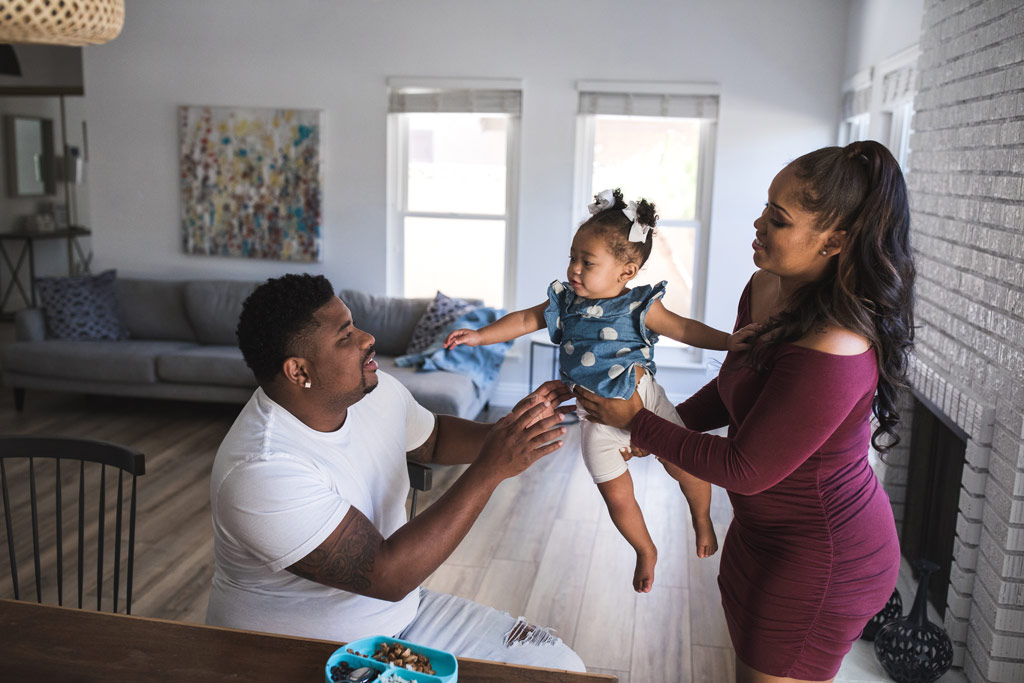 Even though Ebonee suffered from nausea and couldn't stand the smell of meat, she cruised through her pregnancy with ease giving birth in October to a beautiful baby girl, Kali.
The past year has been a whirlwind for Daniel and Ebonee of swaddling, hugging, kissing, loving and enjoying this wonderful little person.
Kali just had her first birthday and is clearly a beloved addition to her family. According to Ebonee, Kali lights up a room with her big smile and happy personality and says that she just started walking and recently sprouted two perfect little teeth. She also loves playing with her big sister and dancing to Baby Shark.
"Future Family became my support and ultimately allowed me to feel what it feels like to experience unconditional love . . . A beautiful baby girl. I can not thank them enough for her."
Thank you, Ebonee, for sharing your story with us and we hope it inspires others. We look forward to more updates and seeing how Kali, Ebonee, and Daniel are doing in the future.
Photography by: Drew Bird Photography