Aug 13, 2019
How a Future Family Loan lowers IVF-related stress
Starting your IVF journey can feel daunting, especially when you consider the financial commitment you're about to make. Luckily, there are many financing options available to help you pay – personal loans, credit card, borrowing from a friend/family member – but only Future Family financing is developed with you in mind. Why? Because most of us have been there. And we want to make sure that you have the smoothest IVF or egg freezing experience possible.
According to NCBI, stress and anxiety during IVF can compromise the success of the treatment. We take out the upfront financial burden, and provide support beyond what you would receive anywhere else, so you can have the best chance of success.
Here are the ways Future Family's financing is less stressful than a loan from a bank or credit card:
Our plan is personalized just for you. After you have finalized your IVF plan and next steps with your fertility doctor, our account managers will meet with you to create the best financing plan for your needs, taking into consideration your specific IVF journey.
Future Family financing is transparent, so you understand exactly what you are paying for: Our account managers walk you through all of the different costs, such as lab work, medication, or clinic appointments, so you understand where every dollar of your loan goes.  Having clarity in your financing a deeper knowledge, so you know you are making the right choice.
Your loan is locked and loaded and doesn't change. Once your loan is finalized, your monthly payment won't change, meaning you can manage your monthly budget without worrying about unexpected additional IVF expenses. You don't have to worry about potential financial changes in the loan.
We manage all the IVF or egg freezing related bills for you. Future Family will manage and pay all of your IVF related bills – from your medications to your clinic bills to your genetic tests – so you don't have to worry about it. You simply pay your monthly Future Family payment and we take care of the rest.
You are assigned a dedicated Fertility Coach. You will receive a dedicated Fertility Coach to be your advocate throughout your IVF or egg freezing journey. Considered one of the best parts of working with Future Family, your Fertility Coach is available 24/7 to help answer any questions you might have to make sure you feel informed and empowered to make the best decisions throughout this process.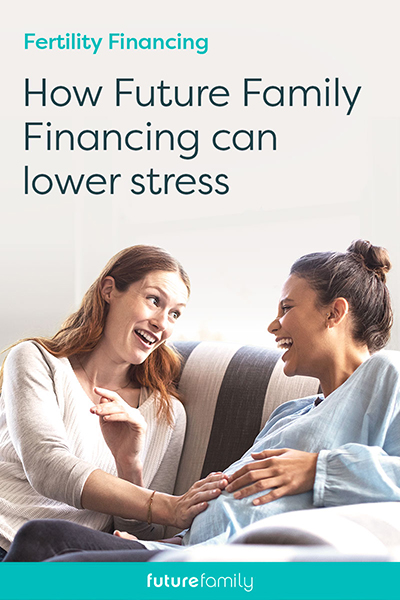 In the end, flexible financing, plus constant support makes Future Family the best loan offering in industry. We hope you'll take the first step and reach out today to see how we can support you in your IVF journey.